Princess Catalog
Select a Princess:
Serena/Aquamarine
Royal Blue/Sapphire
Tiffany/Pearl
Romper
Primrose/Ruby
Starburst/Amber
Sparkle/Amethyst
Woosie
Dawn
Misty
Moondust
Pristina
SunBeam
Taffeta
Princess Moondust (earth pony)
is yellow with pink hair and pink tinsel. She has a shielded medallion with a yellow jewel center. She has pink eyes.
Normal US release (fading) pink hair with  pink tinsel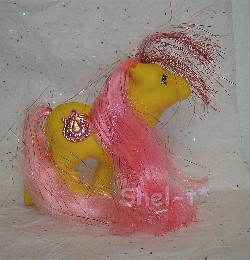 Mexico Prince Emerald,   pink hair with no tinsel
Auriken Mexico no markings under foot.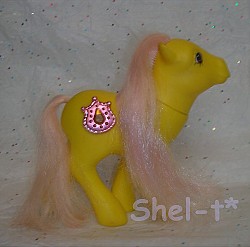 UK variant, (fading) pink mane with   pink tinsel, pink tail with gold tinsel, Dawn's symbol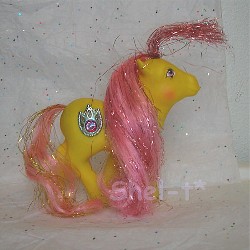 UK variant, pink hair (faded) with no tinsel, short tail, Dawn's symbol in Silver tone with the white round tips of the symbols missing metallic covering/white (uniform to both medallions) (the symbol may be faded but if so faded evenly with no sign of gold tone present)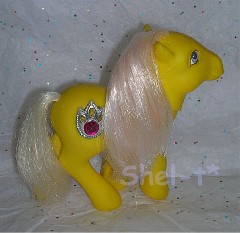 UK variant, pink hair with no tinsel, short tail, Dawn's symbol in gold tone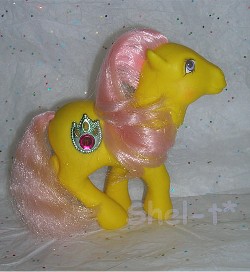 MIB owned by collector1 - permission to use given by collector1